Creative Travel Photography
When you Google "travel photography" of where you're off to, the photos that come up are stunning and devoid of people, trash, and the random items that often accompany your own. You've read about how it's better to be "in the moment" instead of trying to capture that elusive photograph.
You've booked your next trip, bought new sunscreen because your bottle expired, and maybe bought a new outfit or two, and it hits you. Standing there with your camera and phone in hand, you wonder whether to take photos on this trip or not because they'll never reach Google travel photography standards. To help you out, we compiled a few of our favorite ideas to get your creative juices flowing in time for your next adventure. Standard procedures aside – let's get the camera feed rolling!
1. Make use of that map!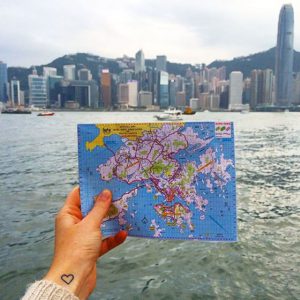 Photo by @worldwanderlust on Instagram.
We think maps look so cool and we love this idea of holding up a map of the city you're in with a shot of a famous skyline or view.  
2. Take a moment for self-reflection.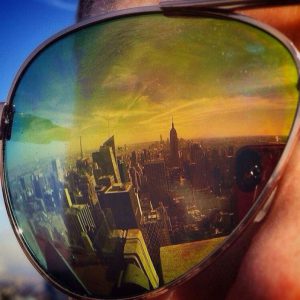 Photo by @nyroamer on Instagram.
Puddles, sunglasses (on or off your face), rivers, lakes, and more all make for visually interesting photography — and it's amazing how clear the reflection looks. 
3. Sketchbook shot! Also called "calligrascapes." Fun, right?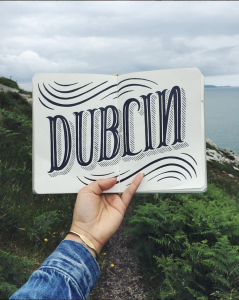 Photo by @homsweethom on Instagram.
Your notebook sketch doesn't have to be as stunning as this one to still create a really cool effect! If you know where you're going, make some of these in advance so you can pull them out and snap a quick photo. Or if you know you'll have time and you want to be spontaneously creative, find a spot and draw (pun intended) inspiration from around you! 
4. Window of opportunity.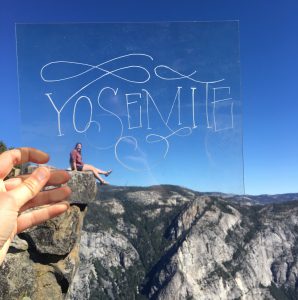 Photo by @cayligraphy on Instagram.
In the same vein as calligrascapes, bring a clear plexiglass piece and a paint maker in your bag (file the edges down though, they're sharp!). Whereas traditional calligrascapes block the view, this one lets you name your location and see the sights!
5. Cut. It. Out.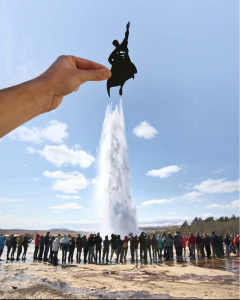 Photo by @paperboyo on Instagram.
And then make a funny scene with it! We got lost in @paperyboyo's photos because they were all so clever and made us see popular spots in a new light!
6. Pic-ception.
Photos from unsplash.
Change your "viewfinder" with these simple ideas: bring a photo frame (best not to go over a 5×7 size), or a white cut out to look like a polaroid, or just use a phone in camera mode! You're still capturing a cool scene, but you're making it even more interesting.
Now that you are a travel photography pro, you're ready for your next adventure!
You decide how time intensive you want this to be, and then get creative! Most importantly, though, have patience to get that shot. If you can, waiting to take the photograph for just one or two minutes more while you wait for the sun to come out from behind a cloud can make a big difference in the final snap.
Happy traveling!
Written for Nowak Tours by Guest Blogger, Caylie Mindling.